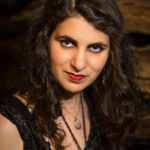 Scarlet Woman Lodge is pleased to host artist, author, dancer, designer, muse, mythpunk, teacher, and witch, Laura Tempest Zakroff for a free book talk, a signing for her new book The Witch's Cauldron, and a performance of The Mechanist & the Star Goddess.
At 7:30 pm, we will host a short talk and book signing with Laura Tempest Zakroff, who recently published The Witch's Cauldron with Llewellyn Worldwide.
From the Publisher's description: "Discover the fascinating history, tradition, and modern uses of the witch's cauldron. From blessing and using your cauldron in ritual to practicing kitchen witchery with it, this book provides valuable information for witches of all ages and skill levels. Explore the history and development of the cauldron as well as the cauldron's role in lore and mythology. Find unconventional cauldrons already in your home and perform some old world witchery. You'll see the possibilities of this wonderful tool are endless, and it may just become your favorite."
This event is free and open to the public, and copies of the book will be available for purchase.
The Mechanist & The Star Goddess
At 9:00 pm, we will host a performance by Tempest and her two musical allies.
The Mechanist & The Star Goddess is a dynamic music and dance project with Tempest, Nathaniel Johnstone, and Davis Petterson. They create improvised music and dance on the spot, inspired in the moment – as well songs from the repertoire of the Nathaniel Johnstone Band. The project title/inspiration evokes the exploration of the liminal space between the confines of the precise concrete world and the limitless divine.
Price for this performance is $15.00 pre-sale (by 6/26), $20.00 at the door (or for tickets purchased after 6/26). We will have a list at the door, but you may want to print out your Paypal receipt and bring it with you as well. Visit our event page for tickets.