March 18, 2016
Doors: 8:00 pm / Start: 9:00 pm
Admission: $20 before March 1st. After March 1st, $25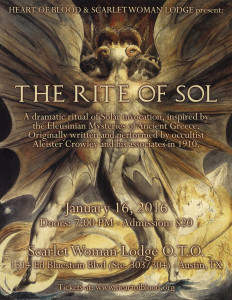 Since the performance of Rite of Saturn in February 2014 at Scarlet Woman Lodge, Scarlet Woman Lodge members have been substantially involved as cast and crew of an ongoing series of performances of Aleister Crowley's Rites of Eleusis. We are excited that these rites are continuing with Heart of Blood's Rite of Sol in 2016, and we are very pleased to be hosting this performance of the Rite of Sol on Saturday, March 18th, at Scarlet Woman Lodge. Seating is limited, so buy your tickets early as performances of the Rites of Eleusis have sold out in the past.
The Rite of Sol is the fourth in the series, The Rites of Eleusis. Loosely based on the ancient Greek initiation ceremonies, the Eleusinian Mysteries, they form a cycle that invokes the planetary energies of the gods by means of dramatic ritual involving music, poetry, dance, and the stimulation of all the senses. The audience is more a part of the Rite than they are mere observers. Crowley wrote the object of the Rites of Eleusis is "the invocation of a God, that God conceived in a more or less material and personal fashion."
For more information and to register, please visit the Heart of Blood web page.