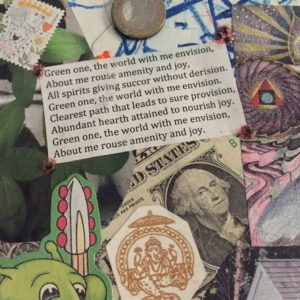 Date: December 5, 2016
Time: 7:30 to 9:30pm
Location: Scarlet Woman Lodge
Join Sr. Nicole for an artistic evening of manifesting your will.
Come together with the ladies of Scarlet Woman's Circle to create a small art piece focused on something you want to manifest in your life as we approach the new year. We will spend a portion of time in creation, and then take our art into ritual space to charge it with our intent.
Some art supplies will be provided, however other helpful items to bring along are:
*divination tools to assist you in creating your focus
*focus relevant items to add to your art: i.e. manifesting more money? Bring some coins or money to add to your art piece.
*any art supplies you desire to use or are willing to share with others. The more supplies we have, the more awesome our work will be.
*any tasty food or beverage you would like to enjoy and share.
Artistic talent is not necessary for this circle, only magical intent. ♥
Although it's a late night, this event is also open to children.
Welcome to the Scarlet Woman's Circle, where we explore a wide range of magical topics and women's mysteries. Anyone whose identity is a Woman or is Gender Fluid is welcome. This event is free and open to the public, but donations are happily accepted.