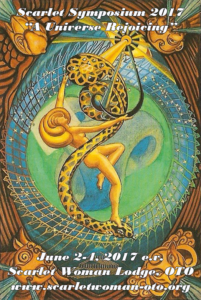 Dates: June 2nd – 4th, 2017 e.v.
Hosted by Scarlet Woman Lodge, O.T.O., the annual Scarlet Symposium is a mystical gathering for seekers exploring the ancient mysteries, magick, metaphysics, and spiritual practice.
The Book of the Law charges us to "Remember all ye that existence is pure joy; that all the sorrows are but as shadows; they pass & are done; but there is that which remains." (AL II:9)
This year our theme is "A Universe Rejoicing." Join us as we explore both the import of joy and celebration in Thelemic philosophy, practice, and sacraments, as well as the alchemical process of finding that same joy and celebration even through difficult, challenging, and unpleasant experience.
Our weekend will be filled with informative and insightful workshops, invocative ritual, exuberant social events, enticing vendors, and much more.
We will release our schedule of events and descriptions of our presentations and associated ritual and social events shortly. Early Bird Pricing is available through April 15th, after which a discounted Pre-Registration option will be available until May 15th.
We invite you to join us for a weekend in which we explore joy in all its multi-faceted splendor and reinforce its central importance in the wide breadth of Thelemic philosophy and experience.
Scarlet Symposium Meet & Greet
The meet & greet event on the Friday before Symposium will be held at Square Rüt Kava Bar on North Lamar from 7-10pm.
Square Rüt Kava Bar
N. Lamar Blvd – Austin, TX
5000 N Lamar Blvd, Austin, TX 78756
http://squarerut.com/
Registration
Scarlet Symposium Schedule
Presentation Descriptions
Presenter Bios